History of the Campaign

The Let's kick racism out of football campaign was started in 1993 by the CRE and the Professional Footballers' Association, with support from the Football Trust. It aimed 'to ensure that all who go to see or play football can do so without fear of racial abuse or harassment'. The campaign quickly attracted widespread support from football fans, from the media and from professional football clubs - almost all of the professional football clubs in England and Wales immediately pledged their support for the campaign's 10-point action plan. While under the auspices of the CRE the campaign held anti-racist events at many football clubs, helped to fund anti-racist football plays, and produced campaign material such as posters, banners, badges and three magazines: Kick It, Kick It Again, and Kick It Out. In 1995, the Football Association, football's governing body, committed itself to kicking racism out of the game when a new organisation was formed. The Advisory Group Against Racism and Intimidation (AGARI) was made up of representatives of all the main organisations in football - the first time ever that all football organisations had come together in a single cause. In 1997, which was declared European Year Against Racism. the campaign changed its name to Kick it out and became independent of the CRE. It produced a colour magazine for teenagers, printed as a supplement to the weekly football magazine, Shoot, in March 1998; and in June that year it produced an exhibition and a leaflet outlining its aims and the issues it is campaigning around. In January the Home Secretary visited Birmingham City Football Club, and Tony Banks was guest speaker at a conference organised by socialist MEPs at Old Trafford on 'Tackling racism in football across Europe'. Wimbledon's failure to support the local Kick It Out action group by 27 January that year, was regarded as newsworthy. The government set up an independent Football Task Force, which reported in February, and among the recommendations were that soccer players and club managers should be sacked for being involved in racist incidents, and that referees should send off any player making racist comments on the pitch.

Latest Relaunch
Representatives from the following football organisations:
The Football Association,
The Professional Footballers Association,
The League Managers Association,
The FA Premier League,
The Football League,
The Commission for Racial Equality,
The Football Supporters Association,
The National Federation of Supporters Clubs and
The Metropolitan Police
have together formed the 'Action group against Racism and Intimidation' - AGARI, and on the weekend of 30th Sepember to 1st October 2001 there was a national relaunch of the 'Kick Racism out of Football' Campaign.

Vigilance
The anti-racism in football campaigns have often dissipated their initiative in empty, politically correct gesture politics. Why, for example, was there such a concerted attack on BBC commentator John Motson for a chance remark, when someone like Jimmy Greaves was for years allowed to get away with the most outrageous comments on prime time TV?

Local Football
In local leagues, sportsmen are being driven out of the game by racism, and clubs with 'too many' black players are being discriminated against. Terry Dannie of Gillingham talked to CARF in 1998 about his experience. He loves football, which he has played since he was 12. At the time of his interview, at 29, he was outraged that he faced a ban for life because he was sent off in five games in a row. 'When I take a free kick, I get called all sorts things like "black bastard". We get abuse from other teams all the time.' When he and other team-mates reacted to racist abuse, they got shown the red card. Terry felt the way he and the other black players were singled out was totally unfair. 'Nothing ever happens to the other side,' he said bitterly about the racist taunters. The manager of the Boatswain and Call pub side was considering withdrawing the team from the league because the young side eight of whom were black were 'fed up with how they are treated'. The Rochester District League's spokesman said that a written warning about racism had gone to all clubs and refs. It had little effect. The Kick It Out campaign said that they get letters from players like Terry every day but, unfortunately, with 3,500 clubs in their remit (and only two workers) they just could not take up individual cases. They also found that intervening on a player's behalf with a local FA can even exacerbate a racism problem and penalise players yet further.

Entrenched Views
Entrenched views in local FAs are something Leeds Road TRA football club in Huddersfield found all about. This all-black team, in an all-white local FA, fought a two-month ban which would have dashed all hopes of promotion and cup glory. (The team was reinstated after an appeal but the fine levied on the club was not returned.) The West Riding County FA had taken harsh punitive action against it after an incident November 1997 involving a supporter who quarrelled with a referee. Roy Akins, Leeds Road's manager explained: 'Referees think we are aggressive because we are black,' while striker Kirk Smith insisted that black players got worse treatment than whites. Akins said he was cynical about the FA's backing for the Kick It Out campaign. For him the issue is more than mere abuse from supporters: 'It's about who runs the game and takes all the decisions.'

Local initiatives
Initiatives at the local level are just as important as national campaigns. Camden United a youth team of Asian, African-Caribbean and white European players created in 1995 to defuse racial tensions in Somers Town has played played Celtic Rangers from Ireland, a non-sectarian team, bringing together Protestant and Catholic players from Dublin and Belfast. In many schools teachers have been encouraging pupils to support the call to kick racism out of football. Primary school children have been creating their own anti-racist posters for a national competition.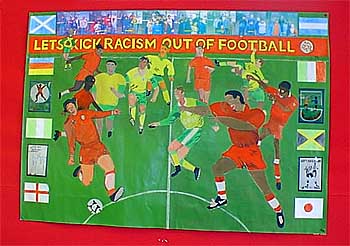 Enfield Town Football Club
So it is an important part of Enfield Town Football Club's community initiatives to support this campaign.

Return to the racism page

Webmaster

This page was created by Colin Moore on 8th November 2001.

The last update was on 8th November 2001.

My e-mail address is colin.moore@bigfoot.com